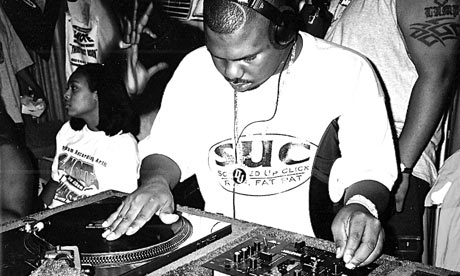 Rest In Peace Robert Earl Davis Jr. aka DJ Screw
DJ Screw passed 11 years ago today but the sound he created can still be heard in today's popular music from artist like the
Black Eyed Peas
to
ASAP Rocky
. Some are paying homage while others just want to get
ahead
.
I believe music can only be Chopped and Screwed if DJ Screw was on the decks. OG Ron C makes sure his music is Chopped up not Slopped up, while DJ Princess Cut has Slowed and Throwed mixtapes; they're not biting. They acknowledge only one man could Chop & Screw and that's DJ SCREW.
This is Real Chopped & Screwed Music


--
My best man introduced me to chopped and screwed music when we were in junior high; I wasn't feeling it at first, made me think of my Walkman when the batteries were low.
A few years later I started to get down with southern hip hop especially the Texas scene. I didn't care what was playing on BET, I was crazy about mixtapes, and it wasn't unusual for there to be a slowed n chopped version. I started to appreciate the slowed music so much I was feelin it more than regular speed music.
In 06' I couldn't see Rapid Ric & Devin the Dude when they came to my city because I was too young, so a year later when I found out Cory Mo, Rapid Ric, DJ Chill and Bun B were coming to Montreal I wasn't gonna miss out. The 2-hour Greyhound ride was worth it because thats still the greatest show I have ever been to. At the time I wasn't really into mainstream music, so I lost my mind when Rapid Ric & DJ Chill started playin tracks like Tops Drops, N Luv with my Money, and Braids & Fades. Classic Texas hip hop in Canada! I couldn't believe my ears. Then Bun B came on and wrecked the show ( that's a good thing). Everyone in the crowd was singing Drapped Up & Sippin on Syrup word for word. It went down that night.
[Note: The dates on the pics are tagged wrong it was actually October '07]
I've been wanting to write this for years, probably never would have happened if my best man had not downloaded Southside Groovin off Kazaa back in the day. I'm in Canada and because of the Internet I can enjoy Screw's legacy. From Texas and all the way to Europe dudes have Screw to thank for their success.




Love this song to death, never knew why Bizzy was on the hook but he kills it.

Even though your gone, your memory lives on and on yeah, even though you died your still my nigga.


Rest In Peace DJ SCREW